Roofers - Get Great Info From This AI Workshop!
College Station, United States - July 14, 2023 / RoofingSites.com /
In the era of digital transformation, effective online presence optimization is vital for all businesses. RoofingSites, a forerunner in the roofing industry, is leveraging a unique performance-based marketing framework known as the 4R Roofing Marketing System. This innovative system is poised to significantly increase revenue for roofing companies through the effective use of SEO (Search Engine Optimization).
SEO Targets - A RoofingSites Approach
As utilized by RoofingSites, SEO targets various elements to enhance a website's visibility in search engine results, thereby attracting organic traffic. The main target of SEO is to ascertain and use specific keywords and phrases that potential clients might employ when seeking roofing services. By optimizing website content with these keywords, RoofingSites can boost its visibility, thereby appearing in the top search results.
RoofingSites Functioning SEO Strategies
SEO strategies function by aligning with search engine algorithms, which rank websites based on several factors including keyword usage, website quality, user experience, mobile optimization, and backlink profiles. By deploying SEO strategies, RoofingSites meets these algorithm requirements, securing higher rankings that translate to increased website traffic and sales.
Info From RoofingSites Founder Chris Hunter
Adding to the discussion on the significance of SEO in the roofing industry, Chris Hunter, the founder of RoofingSites, emphasized the practicality and benefits of incorporating SEO strategies. 
"In today's digital age, visibility is key. It's not just about having a website but making sure that website is found by potential customers. SEO is like a roadmap that guides them to a business. For instance, by incorporating relevant keywords – such as roof repair, local roofing services, or best roofing materials into content, that content is effectively speaking the language of customers and the search engine algorithms."
He further added, "Think of a website as a digital branch of a business. Just as a business would ensure its physical location is clean, attractive, and easy to navigate, a website should be too. This includes having a mobile-friendly interface, quick load times, and valuable content that answers the questions potential customers might be asking. By focusing on these SEO strategies, a website can be created that not just attracts visitors, but also converts them into customers."
The 4R Roofing Marketing System at RoofingSites
RoofingSites has fully embraced the 4R Roofing Marketing System, integrating SEO marketing strategies to increase online visibility, drive website traffic, and generate leads. These elements are critical for business growth in today's digitally oriented-world.
In its recent workshop, "AI for Roofers," RoofingSites demonstrated the power of SEO and AI in boosting roofing businesses. Participants were shown how a proven performance-based marketing framework can significantly impact their revenue. Hunter concluded, "At RoofingSites, the 4R Roofing Marketing System with its focus on robust SEO strategies can significantly increase revenue. It's a game-changer in the roofing industry and RoofingSites is committed to helping other businesses realize its potential."
In conclusion, SEO marketing and strategies are vital components of RoofingSites' approach to the 4R Roofing Marketing System. By leveraging these SEO practices, RoofingSites helps roofing businesses harness the potential of the digital landscape, increasing visibility, leads, and revenue.
For more information on RoofingSites' approach to SEO marketing and the 4R Roofing Marketing System, visit https://www.roofingsites.com/blog/workshop-ai-for-roofers/.
About RoofingSites
Founded by Chris Hunter, RoofingSites is a leading player in the roofing industry, providing digital marketing solutions specifically tailored for roofing businesses. By combining industry insights with advanced marketing strategies, the company aims to help roofing businesses effectively reach their target audience, increase online visibility, and boost revenue. The 4R Roofing Marketing System, pioneered by RoofingSites, is a testament to their commitment to innovation and customer success in the digital era.
Because digital marketing is the best strategy for roofing companies, get superior digital marketing services with the experts at Roofing Sites - call (979) 314-7067 and out-market the competition!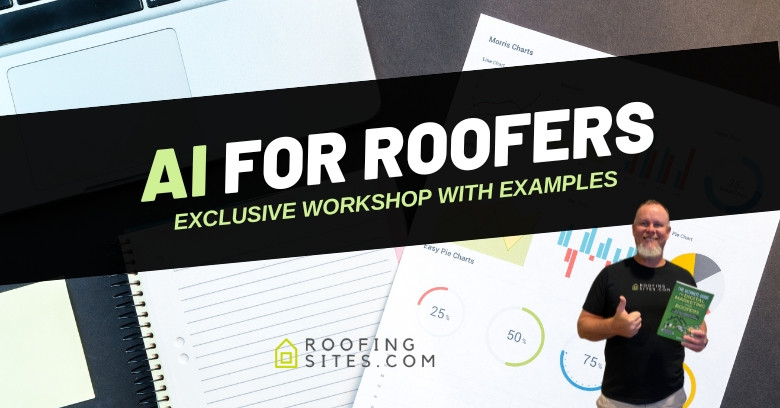 Contact Information:
RoofingSites.com
1511 Texas Ave
College Station, TX 77840
United States
Chris Hunter
(979) 314-7067
https://www.roofingsites.com/

Original Source: https://www.roofingsites.com/blog/workshop-ai-for-roofers/